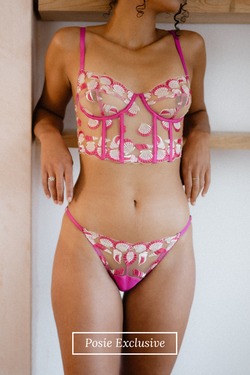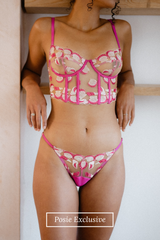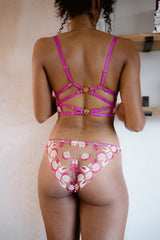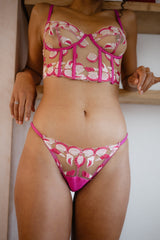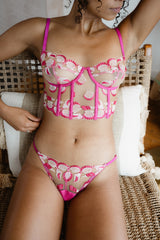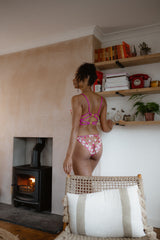 Posie
Pre-order Seashell Brazilian Knickers
Picture yourself lost in the timeless dance of collecting seashells, each one a tiny treasure from the vast expanse of the shore. As you traverse the shoreline, feel the embrace of the sun's tender kisses on your skin, leaving a lingering warmth that whispers of carefree days.

Elevate your lingerie collection with our exquisite Brazilian knickers, a seamless fusion of delicate, barely-there tulle adorned with the gentle touch of seashell embroidery. Immerse yourself in luxury as the embroidery seamlessly complements the sumptuous feel of Fuschia bamboo silk—an opulent, vegan alternative to traditional silk. Crafted with meticulous attention to detail, these knickers offer more than just style. The fully adjustable strapping guarantees a customized fit, ensuring that you experience both the perfect silhouette and optimal comfort.

Brazilian knickers
Shell embroidery
Sheer, delicate tulle
Bamboo silk front panel
Organic cotton gusset
Scallop elastics
Fully adjustable strapping at sides
SIZING

Kaya wears a size S-M
MATERIALS

Embroidery: 100% Polyethylene Front panel: 100% Bamboo silk Gusset: 100% Organic Cotton Jersey 
Lovingly crafted in Britain  

To find your perfect fit, please refer to our size chart.
Our signature adjustable strapping provides opulent detailing whilst giving you a choice of underband sizes for the perfect fit. Our elastics are fully adjustable which allows a bra to fit 3 underband sizes. Our suspender belts and some of our adjustable knickers are adjustable across 2 sizes. This is in the pursuit of great fit and sustainability. Fewer sizes mean less waste!
We know finding the right size can be a struggle. If you need further assistance, please email posie@posielingerie.com. We aim to reply within 24 hours. 
BRAS
 KNICKERS AND SUSPENDER BELTS
Sizing
How do I find the right size?
All of our sizing advice can be found
here
. We understand buying lingerie online is difficult. If you have any questions please email posie@posielingerie.com. We can help you find the perfect fit.
Do you create custom sizing?
Can't see your size on our size chart? We offer custom sizing at no extra cost. We believe that everyone should have access to beautiful lingerie, no matter your size. Please email posie@posielingerie.com for assistance.
Shipping
Do you ship to my country?
We ship worldwide.
How much does it cost to ship? 
You can find the costs of shipping
here
.
How long will my shipment take?
All UK order will be sent for next day delivery.
International delivery typically takes 2 weeks.
Express International orders typically take 2-5 days. 
Returns and Refunds
How do I exchange or return my order?
Please email posie@posielingerie.com with your name and order number. We will send you our address. Once you have returned your order to us, we will inspect it and send you either your new size or your refund payment immediately.
When returning, it is essential you provide your name and order number. Without this we cannot identify your order.